PHOTOMONITORING SYSTEM TO CONTROL THE IMPACT OF PASTURE USE IN LOCAL CONDITION
GRAZING IMPACT MONITORING AND RANGELAND ASSESSMENT AT THE LOCAL LEVEL
The photo point monitoring method (Booth and Cox 2008) was developed to provide information on the cover of plant functional groups that is adequate for grazing management decisions and to report vegetation trends at the functional group level. This method is simpler to implement and requires less training than monitoring methods used by NAMEM. The Agency for Land Management, Geodesy and Cartography made a decision to adopt this method and implement it nationally as a basis for assessing grazing management impacts. The photo point monitoring system covers 4013 sites in total representing different pasture user's groups (PUGs) and different seasonal pastures (Fig 1.).
Figure 1. Distribution of the Photo point monitoring sites at the ALAMGaC across Mongolia, 2017.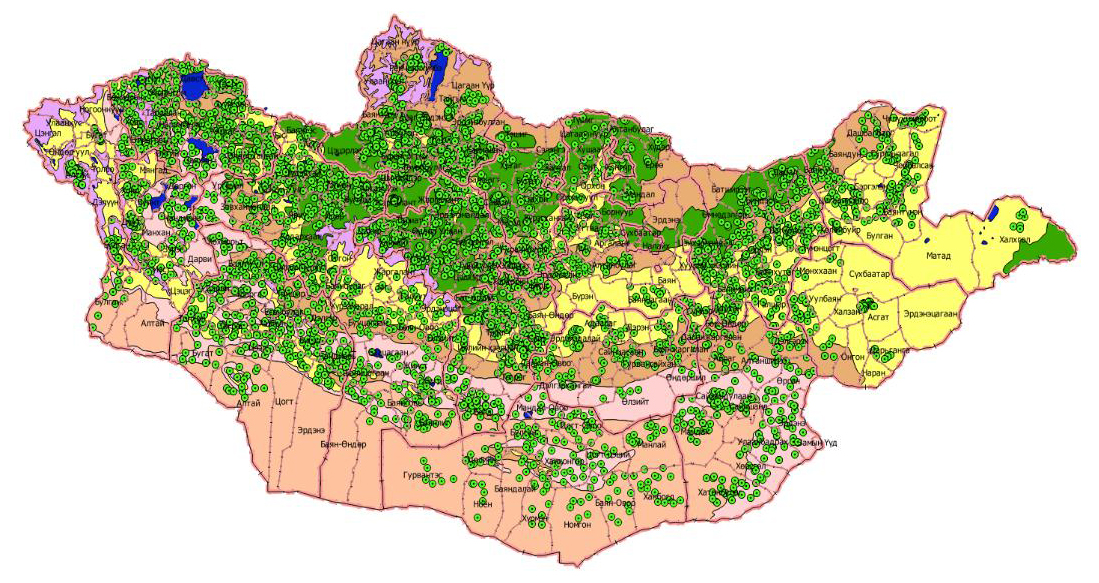 Photo images were collected annually at 5 meter intervals along two parallel 50 meter long tapes by soum land managers and the soum leader of the Association of Pasture User Groups (APUG). Analysis is performed using Sample Point software that facilitates manual, pixel-based, image analysis from nadir digital images of any scale, and automatically records data to a spreadsheet (J. Cagney, S. E. Cox and D. T. Booth, 2011). Cover was estimated for key functional groups and resulting data are managed by ALAMGaC in a national-level database. As of today, the database houses monitoring records and supporting photos from 4013 sites. These sites represent all of the seasonal pastures within baghs and PUGs in 278 soums.
Comprehensive reports on vegetation cover by key functional groups and standing biomass for each PUG can be produced from the national database. This database serves as the main platform for assessing rangeland state and trends, grazing management impacts, and to estimate animal carrying capacities for upcoming winter and spring seasons and make recommendations for animal off-take rates.