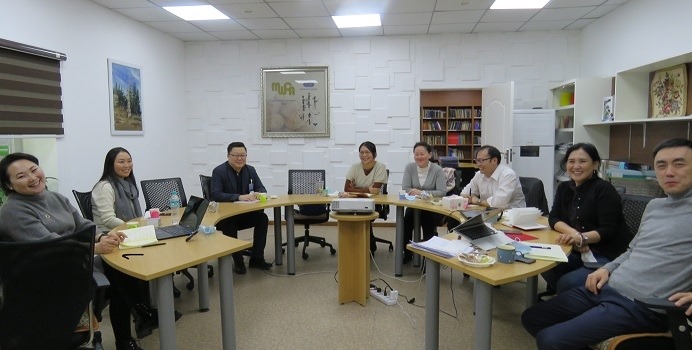 On March 16, 2021, the government, herders, herder cooperatives, pasture users, wool and cashmere manufacturers, and project implementers met to create the activities of stakeholders in the development of environmentally friendly and sustainable cashmere production. The Mongolian Noble Fibre Certification and exchanged views on ensuring the competitiveness and quality of Mongolian cashmere in the international market in connection with the "Sustainable Textile Production" and "Responsible Nomad"standards for sustainable production of livestock raw materials.
In the meeting the following representatives participated: M.Dondogdorj, Director of the Light Industry Policy Implementation Coordination Department of the Ministry of Food, Agriculture, and Light Industry, D.Altantsetseg, Executive Director of the Mongolian Wool and Cashmere Association, Ts.Enkh-Amgalan, Coordinator of the Swiss Agency for Development and Cooperation's Green Gold Animal Health Project, N. Gankhuyag, Executive Director of the Mongolian Pasture Users Association, U.Sarangoo STeP EcoLab Project Manager, J. Chantsallkham, WCS South Gobi Cashmere Project Manager, D. Oyungerel, Executive Director of Sustainable Cashmere Association.
In addition, Mongolia's sustainable high-quality cashmere products are introduced to the international market through national systems of sustainable livestock and production standards with geographical indications to ensure that Mongolian products stand out from other similar products. In other words, it has already started to trace the entire process from the pasture to the finished product through the factory door.
In order to further strengthen the capacity of national stakeholders to implement the sustainable production standards, it was decided to draw a roadmap for cooperation on the organization of Mongolia's sustainable wool and cashmere sector, promotion of herders, cooperatives, factories and cooperation with foreign buyers.
The parties also agreed to promote their contribution to sustainable cashmere production to government agencies and to take their cooperation to a new level.