SDC had the chance to meet with a wonderful young man, his name is Battuguldur and he is 21 years old. He started to share with me a wonderful story from being child to become a professional "Football maker". He lives with his sister and her four children after a long time apart. When his mother was alive, she took him to an orphanage because she could not afford to raise two children. Ten years of his life, he spent in the orphanage. Only then, his mom took him back to care for him. Unfortunately, already a year later, his mother passed away and now he stays with his sister. His sister does construction work, but it is seasonal.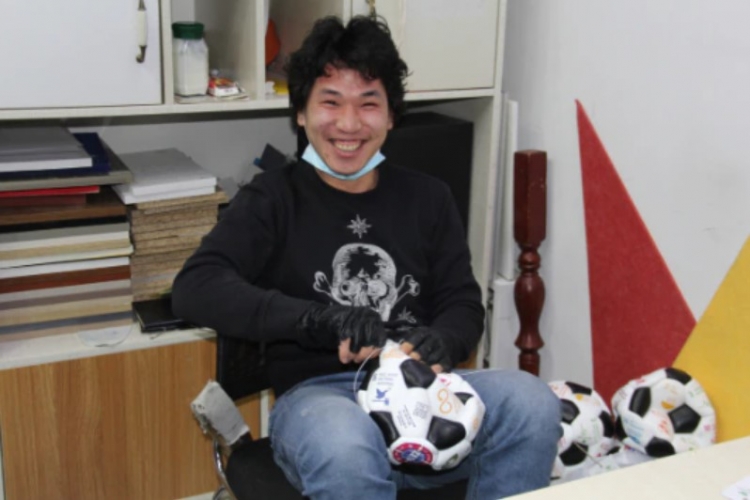 Football maker Battuguldur ©SDC
Therefore, money was always quite short and life has been an ongoing struggle. Tugu studied at a vocational training school in Erdene soum of Tuv Province to be a plumber, but he has never worked in his field.
Already at the orphanage, he believed in God and attended the church regularly. The pastor proposedhim to work at a small workshop that was making handmade footballs. That is how his life became connected to football. In addition, the pastor taught him how to sew the handmade balls. As Tugu had a big passion for football, the work to sewing football matched with his dreams. He started to follow famous football players: "My life is very similar to Ronaldo's, a famous player from Portugal. He grew up in a poor family and he never gave up. Trying and working hard every day, he finally became the world's most popular player. "I also want to become a famous football player as Ronaldo," Tugu said proudly.
In 2018, pastor opened a small football workshop, as a subsidiary of a church in the eastern province of Sukhbaatar, when they started there were only three employees. Now this workshop extended with eight employees and operation became more sustainable and profitable.
The official brand name of the ball is ZEV and it was initiated by pastor Munkhjargal of a Christian church. The main goal of the brand is to support vulnerable children living in difficult circumstances through the sport, to encourage them and to give them confidence and self-motivation. The pastor says, "The football game is a symbol of unity, collaboration, peace, and partnership. Therefore, if we have the opportunity, we want to make footballs and give them away to young people."
Since 2021, SDC started to support this small workshop to make more footballs for children in need. Starting from this year, the workshop began using yak leather from the Responsible Nomads Mongolian brand supported also by SDC's Green Gold and Animal Health project.
"I've made around 500 footballs since 2018, but in 2020, our small workshop faced COVID-19 restriction and we stopped our production. I missed my work, my passionate very much. I like it because it is different from others; there is no pressure, I can concentrate only on sewing footballs, and my organisation supports us. When we started our collaboration with SDC, we started to use Mongolian yak leather, which very high quality, easy to sew and less damage. I am very happy and proud to make ball with those high quality materials," said Tugu.
Supporting this small start-up business, for SDC it is important, that the leather used comes only from herders, following the principles of responsible land management. Responsible Nomads products are certified through the Responsible Nomads traceability system, from the area of origin to the finished products, to ensure sustainable use of the rangelands and to safeguard animal welfare with the participation of nomadic herder families. Herders bring their yak leather to cooperatives, and cooperative managers check the quality and traceability. Once the leather is registered in the database, cooperatives organize sales to processing plants.
Traditionally, yak leather did not have an important commercial value, because the leather quality was not very good. It was through the support of SDC, the special treatment of the animals as part of the "Responsible Nomads" that the yak leather has become a high value product with its one qualities. It is very strong and resistant and we are convinced, that yak leather will be interesting for further processing in the market, still to be further developed.
Please enjoy a video on football /Local news, 04.05.2021/